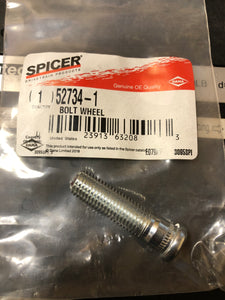 Ultimate Dana 60 Front Spindle Stud Spicer 52734-1
Product Details:
M12X1.50 threaded stud
1.800" length under the head
1.965" overall length
(6) required per knuckle / spindle
See Spicer 2004922 for the required nut
Parts Included:
Fits:
2007 - 2018 Jeep Wrangler JK and JKU with Ultimate Dana 60 front axle
2018 - 2020 Jeep Wrangler JL and JLU with Ultimate Dana 60 front
2019 - 2020 Jeep Gladiator JT with Ultimate Dana 60 front
Dana Spicer "Super" king pin builder kits
Brand:
Part Number:
Warranty:
6 month warranty and case by case basis.
Genuine Spicer light vehicle axle products are manufactured to the same high standards as original equipment (OE) parts because they are OE parts. That means when an automotive axle part is replaced with a genuine Spicer part, you are getting the same performance and reliability you have come to expect. And because Dana is constantly revolutionizing the technology behind its Dana axles and Spicer products, the replacement car axle or component you purchase today may even exceed the standards set for the original equipment part that you are replacing.
WARNING: This product can expose you to chemicals, which are known to the State of California to cause cancer and birth defects or other reproductive harm. For more information go to www.P65Warnings.ca.gov.
---