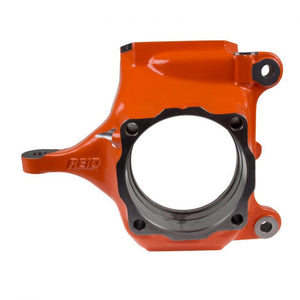 Reid Racing Right Super King Pin Knuckle
Product Details:
Passenger knuckle
Utilizes the stout Dana 60/70 upper and lower kingpin assemblies for the utmost in strength.
1.5″ increased yoke spread allows fitment of 1480, 1550, and Rockwell 2.5-ton U-joints and a greater load carrying capacity.
Uses OEM 2005-present Ford Superduty unit bearings, lockout hubs, stub shafts, U-joints, and 2005-2012 calipers and rotors.
Aftermarket upgraded parts for Superduty applications should be fully compatible, including spindle/hub assemblies, lightweight brakes, unitbearings, and stub shafts.
Inner axle shaft sizes limited only by axle tube diameter and differential sidegears.
Outer stub shafts can be oversized to directly engage the unitbearing's 2.5-inch hub splines when the lockout components are removed.
Flat-top pad machined for 6 ARP highsteer studs, allows for aftermarket steering arms that provide a wide range of steering options.
Antilock Brakes, Traction Control, Vacuum Hubs, and Electronic Stability Control systems can be retained.
10° kingpin inclination and Ackerman angle optimized for 120-135 inch wheelbase.
Knuckles cast from high-strength ductile iron and beefed up with extra material and ribbing.
Cast-in steering arms tapered from the top down for standard "1-ton" tie rod ends; extra-wide arms allow the tie rod holes to be drilled out for oversized bolts, heim joints, etc. Extended arms allow a straight tie rod to clear most differential covers.
Dual cast-in steering stops
Parts Included:
Fits:
Reid Racing Super Kingpin Inner-C's (p/n SKP5)
Part Number:
Warranty:
6 month warranty and case by case basis.
WARNING: This product can expose you to chemicals, which are known to the State of California to cause cancer and birth defects or other reproductive harm. For more information go to www.P65Warnings.ca.gov.
---